Corbett Le Quesne's first Trident student joins the team
7th March 2022

Image: Katie Andrade
Corbett Le Quesne has recently appointed their first Trident student to their team. Katie Andrade originally came to Corbett Le Quesne as a student in 2018. Katie attended Grainville school and then studied Health and Social Care at Highlands College. She has been appointed as an Administrative Assistant but will also become a paralegal in time.
Advocate Le Quesne commented: "We go out of our way to support students and in particular the Trident Scheme. Katie was always proactive and friendly and when we needed a new receptionist we thought of her. Katie has fitted in so well we don't know what we would do without her. Katie speaks fluent Portuguese and has been invaluable in assisting some of our Portuguese clients. We are expanding the office soon and Katie joining is an important part of our expansion. She is confident and charming and she is already proving popular with clients. It is important to feel comfortable when attending your lawyer's office and she provides a welcome face and is highly competent in assisting people as required."
Lizzie Keogh, the office manager at Corbett Le Quesne commented "Skills Jersey recently sent us a letter and certificate thanking us for our support of the Trident scheme and Katie joining us shows how important the scheme is. We have many requests for students to attend here for work experience and we are as accommodating as possible. It also means that we meet some really lovely students and many stay in touch as they move forward with their careers."
Katie commented "I have only been here a short time but I have learned so much already. Being able to help people has been really rewarding and speaking Portuguese has meant I have been very involved with some cases. It is also an interesting time to have joined, with Covid restrictions ending, the office expanding and I am helping arrange two international family law conferences with some very prestigious lawyers and judges attending. I am really enjoying being here and aspire to be an advocate like Barbara and Nick one day."
This photograph was taken during Katie's Trident work experience.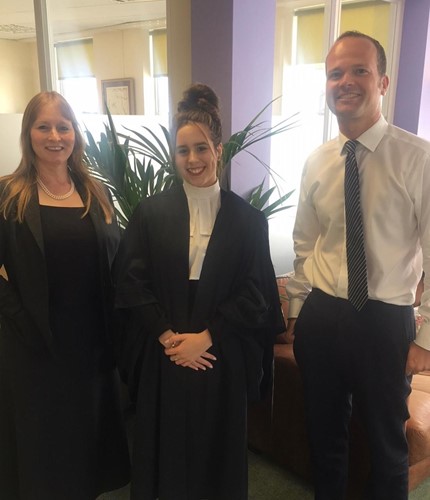 « Back to Blog